Love is love no matter whom you bestow it on including yourself. As a Valentine special edition we created a sour cherry truffle. A dried sour cherry, surrounded by a silky truffle ganache and encased in dark chocolate. (Contains alcohol) Share the delicious chocolatey kind of love for 15% off now through February 8th. (shipping is between 1 and 5 days) Also, if you want to make your own Valentine's chocolates, watch the video below for tips on how to temper high quality chocolate for dipping goodies such as strawberries. The chocolate coins for melting are on our website. Happy...
---
• brownies • chocolate • recipes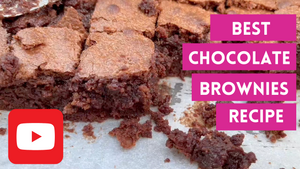 Welcome back! It's fall and finally a little cooler making it possible to ship our chocolates again!  Want to learn how to make THE BEST CHOCOLATE BROWNIES EVER? In Switzerland this summer, we shot a beautiful video with the best chocolate brownies recipe. It tastes even better than it looks! It's perfect when made with our 62% dark chocolate coins available on the website. You'll love them!! To start the season, enjoy a 15% discount on all products on our Coco Suisse website now thru October 20th, using code: FALL22 Much love from the Coco Suisse kitchen to yours!
---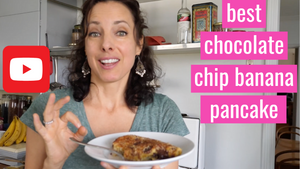 Dear chocolate lovers, Mother's day is almost here!
How about making the BEST and most ridiculously delicious chocolate chip banana pecan pancake for your mom or wife or whoever you love including yourself?!
Not just delicious but also healthy if you make it with whole grain flour.
Imagine caramelized bananas, melted chocolate, lush batter and a crispy top. Yummm!
---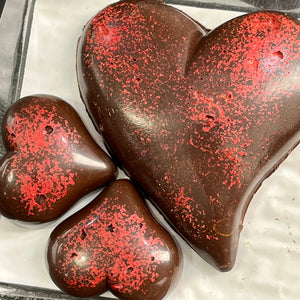 It's that time of the year to remind yourself and others that you love them - what better way than with delicious chocolate. We made a special heart trio, two truffle hearts and a giant croquantine (hazelnut and caramelized blended almonds and chocolate filling) heart. A beautiful and delicious gift.
---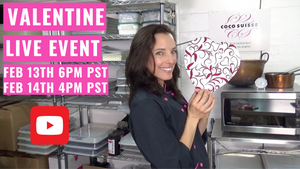 Hi everybody! Hope you're all well! We're putting together a really fun and delicious live Valentine's Zoom Event you can enjoy with us and other chocolate lovers.  We'll start off by showing you how to make truffle ganache, the chocolate and cream / butter mixture you fill chocolates with or layer a cake with, or just spoon into your mouth directly as a treat. We'll send you that ganache pre-made so we can all roll out four truffles together.  Then we'll cover the truffles in cocoa powder or powdered sugar which is included in our package, or you can use...